AND so it begins…
I've been keeping an eye on Football Index for a while now. It's the latest in along line of different ways to make money from your football knowledge, this time playing in a pseudo-stock market rather than against the bookies.
It's a concept that's intrigued me. I've dabbled in crypto-currency but you could write on the back of a postage stamp just how much I know about Bitcoin, Litecoin or Ethereum, but Football? Well I'd like to think that's a little bit different.
The idea behind Football Index is that you invest in the performance of players, not teams, and you can earn money but buying low and selling high. So if you know of a player about to make a big move, or can identify a striker about to hit a hot streak then you can benefit from their share price increasing and cash out with some profit.
There's also the opportuntity to earn dividends on a regular basis based on the players' performances and column inches.
I don't claim to be an expert though, so I thought the best way to learn is to give it a go.
My First Football Index Portfolio
With a £25 deposit I've recruited my Football Index Dream Team and built my first portfolio.
Odsonne Edouard – This guy had to be first purchase. He's on fire in Scotland and looks a shoe-in for Player of the Year. If he can stay fit his share price will only rise.
Alfredo Morelos – Across the city, El  Buffalo is never off of the back pages, nor the front for that matter, recently. He'll be crucial in Rangers' pursuit of trophies from now until the end of the season although his discipline might adversly affect his price. A risky one.
Mohammed Elyounoussi – Just returned from injury so a good time to buy. Might struggle to fit in to Neil Lennon's recent 3-5-2 formation but if he can nail down a place his price should increase.
Scott Arfield – Bagged a couple of goals at the weekend and is a regular starter for Rangers. I'm not expecting huge returns here but if he can keep scoring he could be a good addition to the portfolio.
Delle Alli – I like the look of Spurs' upcoming fixtures, including in the Champions League, so Alli looks good value. He'll play most games and in the absence of Kane will need to weigh in with some goals.
Lionel Messi – OK this one was for my own ego. Who wouldn't want Messi as a line in their portfolio. Things aren't 100% at Barca just now so it looks a good time to buy the little genius and with Champions League matches just around the corner he's sure to feature on the back pages in the coming weeks.
Romelu Lukaku – Another striker in great form who's found a new lease of life at Inter. Two legs against Ludogorets in the Europa League could be profitable if Lukaku keeps up his hot streak in front of goal.
All that talent cost me £24.95. And where else could you cheer on goals from Edouard and Morelos at the same time!
And the good news is that I'm ALREADY in profit!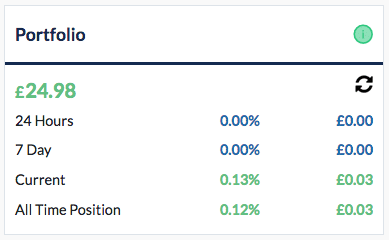 OK, it's only three pence but it's a start 😂
I'm going to keep a record of my trades, my profit and loss, and my dividends – let's see how much I can make in the space of four weeks.
If you'd like to give it a go then click on the button below to get started. You can get a 7-day risk free trial with up to £500 money back if you incur losses (see the Football Index site for T&Cs)
Review Football Index – Get £25 of Share for Free
I'm recruiting five people to help me test-drive Football Index. Find out how you can get involved here.