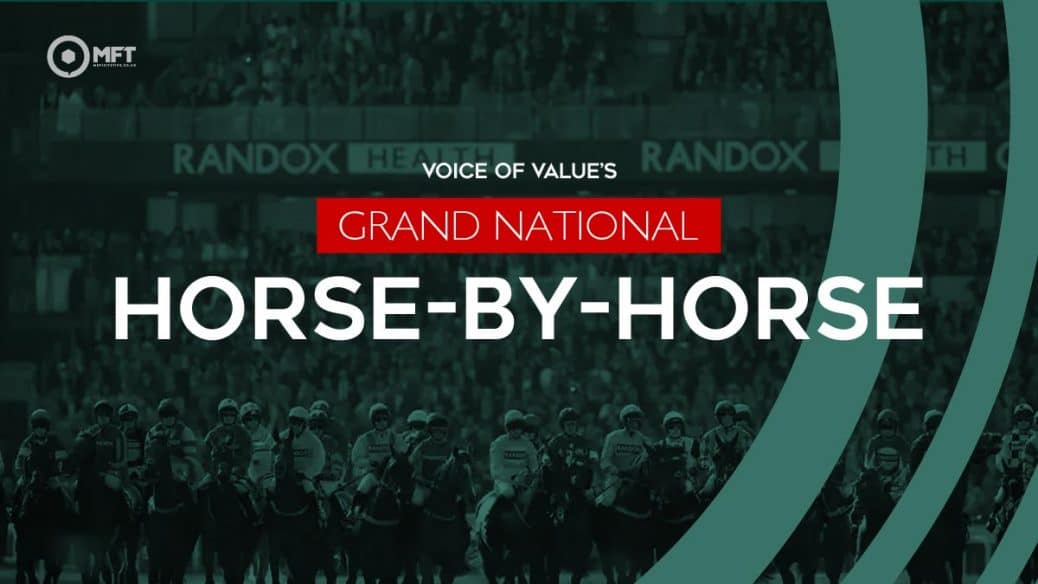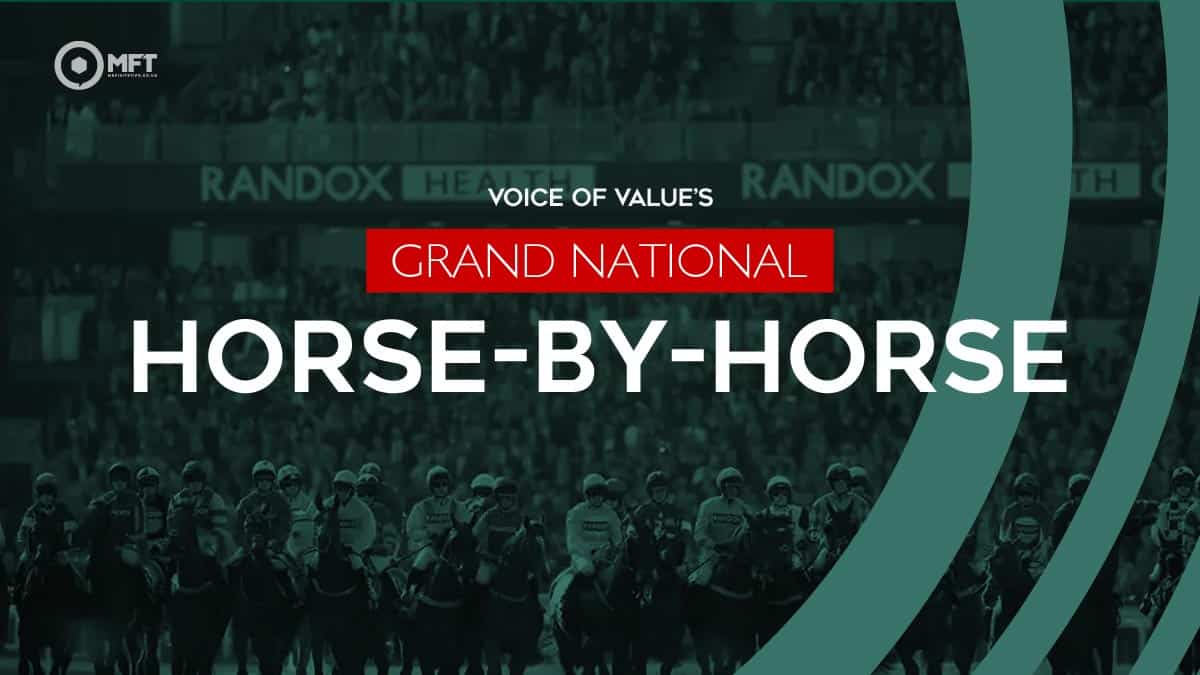 This tip has expired. Please check our free horse racing tips section of the website to find the most up to date.
I CAN'T believe that it's been two years since I last did this preview but it feels great.  After 24 months the world's greatest horse race is back.
Since we last had the race a lot has changed in the world.  Even in horse racing itself there have been plenty of changes: no less than 5 of the jockeys who started the race in 2019 have since retired from the saddle.  How many can you name without checking?
Unfortunately we still aren't in a position to have crowds at the racing although I believe that some owners will be allowed as we take small steps back towards normality.
It's impossible to preview the race without mentioning the elephant or rather the Tiger in the room. The winner of the last two renewals, Tiger Roll, had the chance to make history by winning three Grand Nationals in a row.  Unfortunately his owners went in a huff after bizarrely requesting that the winner of the last two renewals was given a much lower weight to carry than his handicap mark would suggest.
As a result of that childish stubbornness the horse was withdrawn from the race and will instead be running in a different race at the same meeting.
It's a crying shame that we will be deprived of the chance to see history being made and goodness knows how you can explain to the casual racing observer why the two-time champ isn't running in the race but instead is running in a race which, with all due respect to a good quality grade 1, is actually an afterthought this weekend.
Before I get started on my review of each of the 40 runners and a few reserves, I repeat a lot of these points most years but they are always worth noting and/or passing on to others who might not be particularly bet savvy:
Shop around and take the price. Make sure you find bookies offering more than 4 places for each way bets. Most will offer at least 5 and you should be able to get 6 in some places. Equally important is making sure that you take the price that is on offer and not the starting price (SP). I will spare you the details but every year the SPs are painfully low compared to the early prices as bookies try to increase their margin nearer the start of the race.
Get on early. The best time to place your bets is usually Friday evening or first thing on Saturday morning when the prices are most competitive as bookies vie for competition.  This is likely to be especially true if you are looking to back the favourite Cloth Cap.
Don't get carried away. It's one of the hardest races of the year to predict and even when you think you have one with a great chance he can be brought down by another horse or impeded and your chance has gone in the blink of an eye. It goes without saying every week of the year but never bet what you can't afford to lose.
Don't be afraid to have more than one bet. There are 40 runners in the race so you shouldn't restrict yourself to just one horse unless you want to. Scatter a few small each way bets around and you will have a better chance of having one or two to cheer on at the finish.
So without further ado, here are the runners and riders for the Randox Health Grand National of 2021…
2021 Grand National Runners & Riders
1. Bristol De Mai ⭐️⭐️⭐️⭐️⭐️
Jockey: Daryl Jacob | Age: 10 | Weight: 11st 10lb | Trainer: Nigel Twiston-Davies |

Top weight is a big ask for any horse and whilst Bristol De Mai is a class act, I think the combination of decent ground and top weight away from his beloved Haydock will be enough to stop him winning.  I can't see him winning.
2. Chris's Dream ⭐️⭐️⭐️
Jockey: Darragh O'Keefe | Age: 9 | Weight: 11st 7lbs | Trainer: Henry De Bromhead
Hasn't shown much form this season but hasn't had the benefit of a drop in the handicap rating either.  Nothing really to suggest that he wants this sort of stamina test or that he has the ability to outclass the opposition here.
3. Yala Enki ⭐️⭐️⭐️⭐️⭐️
Jockey: Bryony Frost | Age: 11 | Weight: 11st 3lbs | Trainer: Paul Nicholls
A really admirable staying chaser who runs his race more often than not but as a result he doesn't hold any surprises for the handicapper.  He is now 11 years old and probably prefers softer ground than he will get here.  Add on top of that the fact that he fell at the first fence on his first try over these fences in the Becher Chase in December and it becomes hard to make a case for him.  Hopefully he gets over the first few and gets into a rhythm but I suspect there will be better handicapped horses going past him on the final circuit.
4. Ballyoptic ⭐️⭐️⭐️
Jockey: Sam Twiston-Davies | Age: 11 | Weight: 11st 1lbs | Trainer: Nigel Twiston-Davies
A good quality 3 mile chaser on his day but he hasn't run well this season suggesting to me that his best days are behind him.  The handicapper hasn't really relented either so it's hard to fancy him. Probably wants softer ground.
5. Definitly Red ⭐️⭐️⭐️⭐️
Jockey: Henry Brooke | Age: 12 | Weight: 11st 1lb | Trainer: Brian Ellison
Hasn't shown decent form this season and as a 12 year old is likely past his best. He was sent off a fairly short price for this race in 2017 but was hampered and had to be pulled up.  I think that was his chance that year and his current handicap rating is too high for him to make any impact.
6. Lake View Lad ⭐️⭐️⭐️⭐️
Jockey: Brian Hughes | Age: 11 | Weight: 11st 0lbs | Trainer: N W Alexander
He was pulled up in 2019 when the ground apparently wasn't soft enough for him and it looks unlikely that he will get soft ground this time.  On a strict interpretation of the form he has over a stone of weight to find with Cloth Cap based on their last run too.  Another poorly handicapped older horse who is hard to fancy.
7. Burrows Saint ⭐️⭐️⭐️⭐️⭐️⭐️⭐️
Jockey: Patrick Mullins | Age: 8 | Weight: 10st 13lbs | Trainer: Willie Mullins
Winner of the Irish Grand National in 2019 it's hard to say that the horse is particularly well handicapped but we know that he stays a longer trip and likes decent ground.  The softer ground on his recent starts might account for his poor performance and there is no doubt he will have been trained for this race all season.  He holds a strong chance in my book but is a bit short in the betting for me to recommend a bet and I think one or two might be better handicapped.
8. Magic of Light ⭐️⭐️⭐️⭐️⭐️⭐️⭐️
Jockey: Robbie Power | Age: 10 | Weight: 10st 13lbs | Trainer: Jessica Harrington
Arguably her best ever performance was when running 2nd to Tiger Roll in the last renewal of this race in 2019.  She pushed him all the way that day and lines up here 5lb higher in the ratings but carrying a similar weight (10st 11lb in 2019).  I think the race is a bit weaker this year and if she can replicate that performance (a big ask of course) I think she will go very close.  I certainly wouldn't bet against her though.
9. Acapella Bourgeois ⭐️⭐️⭐️⭐️⭐️⭐️⭐️⭐️
Jockey: Danny Mullins | Age: 11 | Weight: 10st 12lbs | Trainer: Willie Mullins
At first glance this horse looks like one who has flattered to deceive over the years.  He isn't the most reliable and I think I went off him a while ago for that reason but actually when it comes to this race there are pieces of form which give him a decent chance.  He was a good 3rd in the Irish Grand National won by Burrows Saint but now has a significant weight pull in his direction.  He also beat that same horse last time out giving him 6lb of weight and is officially a few pounds well in at the weights as a result. Add in the fact that the good ground will actually be ok for him and he looks like a lively outsider to me. He has that bit of back class that modern horses need to win the National and looks a decent price.
10. Talkischeap ⭐️⭐️⭐️⭐️⭐️
Jockey: Tom Cannon | Age: 9 | Weight: 10st 12lbs | Trainer: Alan King
He hasn't shown much in the way of form since his excellent win at Sandown in 2019.  That sort of performance would give him every chance here but it's been two years since that win and his poor run last time out means he is actually carrying 5lb more than he would on official ratings due to the early weights announcement for the National.  In terms of value there have been worse 66-1 shots but it's hard to see him turning it on all of a sudden.
11. Tout Est Permis ⭐️⭐️⭐️
Jockey: Sean Flanagan | Age: 8 | Weight: 10st 12lbs | Trainer: Noel Meade
There is very little to advertise this one's chances, not least his poor run 3 weeks ago where he was found not to be 100% by the vet after the race.  It would be helpful if he was scratched from the race actually to allow one of the horses in better form to get in at the bottom of the weights.
12. Anibale Fly ⭐️⭐️⭐️⭐️⭐️
Jockey: Denis O'Regan | Age: 11 | Weight: 10st 12lbs | Trainer: Tony Martin
There is more chance of me winning the race than Anibale Fly based on his last few runs but he has finished 5th and 4th in the last two runnings of the race and has now come down significantly in the weights.  It remains to be seen whether a return here will rejuvenate him but if it does he is very well handicapped, carrying 9lb less than in 2019 and at 11 he isn't necessarily over the hill.
13. Mister Malarky ⭐️⭐️⭐️⭐️⭐️⭐️
Jockey: Jonjo O'Neill Jr | Age: 8 | Weight: 10st 12lbs | Trainer: Colin Tizzard
A horse with a couple of very good handicap wins to his name on varying ground.  I don't imagine that he is fabulously well handicapped but if he gets into a rhythm and enjoys the marathon trip he might run well here. Not awful value at 40-1.
14. Kimberlite Candy ⭐️⭐️⭐️⭐️⭐️⭐️
Jockey: Richie McLernon | Age: 9 | Weight: 10st 10lbs | Trainer: Tom Lacey
Won nicely at Warwick last January to prove he can get a marathon trip and has only been seen once since then when a good 2nd place (albeit distant) in the Becher over these fences in December. Ticks lots of boxes in terms of stamina and national fences but he has really been hammered by the handicapper for the Classic Chase win at Warwick so I think he might struggle to get home in front.  Perhaps one for a place but his odds are a bit short at 14-1 to recommend a bet on him.
15. Any Second Now ⭐️⭐️⭐️⭐️⭐️⭐️⭐️
Jockey: Mark Walsh | Age: 9 | Weight: 10st 9lbs | Trainer: Ted Walsh
Jim Delahunt makes a very good case for him on our podcast and it's hard to disagree.  The horse has had an 'interesting' campaign over the last couple of seasons and this has clearly been the target.  The value has gone now but I expect him to run a big race and if he can stay the marathon trip he has the turn of pace and the jumping required to get it done.
16. Balkos Des Flos ⭐️⭐️⭐️⭐️
Jockey: Aidan Coleman | Age: 10 | Weight: 10st 9lbs | Trainer: Henry De Bromhead
A classy horse who hasn't shown much in recent runs, with his last win coming in the Ryanair Chase at the Cheltenham Festival in 2018.  He has come down in the handicap quite a bit since then so would be dangerous if rediscovering some of his old form but that looks unlikely.
17. Alpha Des Obeaux ⭐️⭐️⭐️⭐️
Jockey: Jody McGarvey | Age: 11 | Weight: 10st 9lbs | Trainer: Denise Foster
An old boy with some back class who ran ok in the Cross Country in 4th place, suggesting that all is not lost for him.  He also ran quite well in the Becher Chase in 2018 (4th).  His other form hasn't been great though and it would be a surprise if he could win this.
18. Ok Corral ⭐️⭐️⭐️⭐️
Jockey: Derek O'Connor | Age: 11 | Weight: 10st 8lbs | Trainer: Nicky Henderson
Has only been seen once since a win at Doncaster in January 2020, when he was pulled up at Cheltenham last month. It's hard to make a case for him now on that evidence.
19. Takingrisks ⭐️⭐️⭐️⭐️⭐️⭐️
Jockey: Sean Quinlan | Age: 12 | Weight: 10st 7lbs | Trainer: Nicky Richards
The Scottish Grand National Winner in 2019 is now 12 years old but won nicely in January of this year at Doncaster so is still clearly in good order. He beat Cloth Cap that day at Ayr in 2019 so an argument can be made that he is good value at 40-1.
20. Shattered Love ⭐️⭐️⭐️⭐️⭐️
Jockey: Kevin Sexton | Age: 10 | Weight: 10st 7lbs | Trainer: Denise Foster
I have always liked this mare but I'm not sure that she will be an out and out stayer.  She has a decent racing weight if she gets into a rhythm for Kevin Sexton and I would love her to win but can't see it happening I'm afraid.
21. Jett ⭐️⭐️⭐️
Jockey: Sam Waley-Cohen | Age: 10 | Weight: 10st 7lbs | Trainer: Jessica Harrington
The horse is very much out of form at the moment and is hard to recommend here.  Did complete in the Becher Chase but was well beaten.
22. Lord Du Mesnil ⭐️⭐️⭐️⭐️⭐️⭐️⭐️
Jockey: Nick Scholfield | Age: 8 | Weight: 10st 6lbs | Trainer: Richard Hobson
I was really keen on this lad who has become a real favourite of mine in the last couple of seasons.  He would love this sort of test in soft ground but unfortunately the rain hasn't come and the ground looks like it could be too fast for him.  I did put a bet on him last week when some rain popped up in the weather forecast so I'll be cheering him on in the hope that I'm wrong about the need for soft ground – he does have little bits of ok form on good if you look back – but I fear that they might go too quick for him.
23. Potters Corner ⭐️⭐️⭐️⭐️⭐️
Jockey: Jack Tudor | Age: 11 | Weight: 10st 6lbs | Trainer: Christian Williams
The Welsh National winner from 2019 was one that I thought would do well last year if the race hadn't been cancelled.  This year we haven't seen much in his form to suggest that he is at the top of his game and his price is a bit skinny at 20-1 for me.  I think he is another one who would prefer some rain.
24. Class Conti ⭐️⭐️⭐️⭐️
Jockey: Brian Hayes | Age: 9 | Weight: 10st 6lbs | Trainer: Willie Mullins
He has bits and pieces of decent form but I'm not sure he wants a marathon trip, would probably prefer soft or heavy going and he is untried over the national fences.  Daryl Jacob is the retained jockey for the owners and he prefers Bristol De Mai.
25. Milan Native ⭐️⭐️⭐️⭐️⭐️
Jockey: Jamie Codd | Age: 8 | Weight: 10st 6lbs | Trainer: Denise Foster
I backed this fella at Cheltenham but he let me down big time. His form  has been poor this season but I thought he had been plotted for Cheltenham after winning there last season.  He didn't jump well though and could only finish in midfield and if there is one place you need to jump well it's here.
26. Discorama ⭐️⭐️⭐️⭐️⭐️⭐️
Jockey: Bryan Cooper | Age: 8 | Weight: 10st 6lbs | Trainer: Paul Nolan
We know that this one stays well given his close 2nd place in the 4 miler at the Cheltenham Festival in 2019.  He also ran well at the festival last season nut hasn't been seen since November.  He has had a wind operation (a small procedure to help with a horse's breathing) and comes here fresh with there trainer in a bullish mood so it wouldn't be a surprise to see him run well. He doesn't quite make it onto my shortlist though, largely because of that gap since his last run.
27. Vieux Lion Rouge ⭐️⭐️⭐️⭐️⭐️⭐️
Jockey: Conor O'Farrell | Age: 12 | Weight: 10st 5lbs |Trainer: David Pipe
There are horses that come along who just love the test of a Grand National fence and this is one of them.  File him alongside Blathazar King, Hello Bud and Big Fella Thanks as the sort of horse who save their best for Aintree and these unique obstacles. VLR has competed in races over these fences nine times and nine times he has completed the course including two wins and a second in the Becher Chase and 6th, 7th and 9th placed finishes in the Grand National itself.  If you had to put a bet on a horse to complete the course it would be this guy but I just don't think he has the stamina to win it.
28. Cloth Cap ⭐️⭐️⭐️⭐️⭐️⭐️⭐️⭐️
Jockey: Tom Scudamore | Age: 9 | Weight: 10st 5lbs | Trainer: Jonjo O'Neill
Those of you who were quick might have managed to back this one when I tipped it 14-1 a few hours before he ran in his last race.  I realised that a decent run that day would see him go off a shorter price for this and he ended up winning very well and is now the short priced favourite.  He jumps well, he will love the good ground and should get into a decent rhythm near the front.  My two concerns are that its a very tough race for a front runner to win (hopefully Tom Scudamore holds him up just a little) and although he stayed on well enough in 3rd place in the Scottish Grand National he will possibly need to stay better than that.  He is a better horse this season though so I'm confident he will run a big race.  Cant advise a bet now though at 4-1.  If you are desperate to back him wait until Friday night or Saturday morning when bookies are likely to increase their odds a bit and you might get 11-2 or 6-1.
29. Cabaret Queen ⭐️⭐️⭐️⭐️
Jockey: Sean O'Keefe | Age: 9 | Weight: 10st 5lbs | Trainer: Willie Mullins
It's nice to see a few mares running in the race this year but it's hard to make a case for this one other than perhaps the hope that an attempt at a marathon trip could unlock some improvement.
3o. Minellacelebration ⭐️⭐️⭐️⭐️
Jockey: Ben Poste | Age: 11 | Weight: 10st 5lbs | Trainer: Katy Price
Unseated Ben Poste in the Becher in December so they are back for more punishment here.  He hasn't had any form with speaking of since a nice win in October over 3 miles.  He has had a wind operation since then so that might bring about a return to form but he would need a clear career best to win which is unlikely at the age of 11.
31. Canelo ⭐️⭐️⭐️⭐️⭐️
Jockey: Tom Bellamy | Age: 8 | Weight: 10st 4lbs | Trainer: Alan King
A fairly lightly-raced chaser who might yet have some improvement in him but I'm not sure he wants this extreme test of stamina.  He does jump well and good ground should be in his favour.
32. The Long Mile ⭐️⭐️⭐️
Jockey: Luke Dempsey | Age: 7 | Weight: 10st 4lbs | Trainer: J P Dempsey
This one doesn't fit the profile for the race at all, being a 7 year old without any success over staying trips.  It would be a surprise if he could win this although he was staying on a bit in his run over 3 mile and a bit last time out, beaten about 7 lengths into 3rd. An unlikely sort.
33. Give Me A Copper ⭐️⭐️⭐️⭐️⭐️
Jockey: Harry Cobden | Age: 11 | Weight: 10st 4lbs | Trainer: Paul Nicholls
He has always been well thought of this horse but hasn't quite delivered and it would be a surprise if he could do the business here at the age of 11. He hasn't given the impression that he wants a marathon trip doesn't look particularly well handicapped to me.
34. Farclas ⭐️⭐️⭐️⭐️
Jockey: Jack Kennedy | Age: 7 | Weight: 10st 3lbs | Trainer: Denise Foster
Another 7 year old who looks on paper like an unlikely sort for the race.  He did win the Triumph Hurdle as a 4 year old which is a race that Tiger Roll won at the same age but that wouldn't suggest that either of them would go on to become Grand National winners.  I would need to see more from Farclas over 3 miles or longer before I could get behind him for this.
35. Minella Times ⭐️⭐️⭐️⭐️⭐️⭐️⭐️
Jockey: Rachael Blackmore | Age: 8 | Weight: 10st 3lbs | Trainer: Henry De Bromhead
This horse will be hugely popular and has already been backed in the market with the news that Rachael Blackmore has been confirmed as the jockey.  She and trainer Henry De Bromhead are the in-form combo at the moment and have already attracted the support of my better half.  The horse's ability to stay a lengthy trip is totally unknown so I am hesitant but the horse is a fairly well handicapped improver so is one of the more likely ones, particularly with such a low weight in the saddle bag.
36. Sub Lieutenant ⭐️⭐️⭐️
Jockey: Tabitha Worsley | Age: 12 | Weight: 10st 3lbs | Trainer: Georgie Howell
An admirable campaigner on his day who continues to run with credit but is unlikely to see out this trip at the age of 12 and with no prior indication that this is what he wants.  A great experience for jockey Tabitha Worsley to get a run in the race.
37. Hogan's Height ⭐️⭐️⭐️⭐️⭐️
Jockey: Gavin Sheehan | Age: 10 | Weight: 10st 3lbs | Trainer: Jamie Snowden
Winner of the Grand Sefton over these fences in December but that is a much shorter trip and his runs over 3 miles plus suggest he isn't a strong stayer.
38. Double Shuffle ⭐️⭐️⭐️⭐️⭐️⭐️
Jockey: Jonathan Burke | Age: 11 | Weight: 10st 2lbs | Trainer: Tom George
Double Shuffle is a horse that I like and I backed him to win at Kempton in January when he duly did the business. He is a class act but seems to save his best performances for Kempton. He completed the race over the National fences in the Topham in 2019 and is the classy sort who might do well off a low weight if he can get into a rhythm. I see that Bet365 are currently offering 125/1 and he is better than that price suggests.
39. Ami Desbois ⭐️⭐️⭐️⭐️⭐️⭐️
Jockey: Kielan Woods | Age: 11 | Weight: 10st 2lbs | Trainer: Graeme McPherson
A decent handicap chaser but nothing special to advertise his claims of winnings this as an 11 year old.  Unlikely to stay the full 4 miles plus.
40. Blaklion ⭐️⭐️⭐️
Jockey: Harry Skelton | Age: 12 | Weight: 10st 2lbs | Trainer: Dan Skelton
Winner of the Becher in 2018 and 4th in this race in 2017 when sent off as favourite.  Not much has gone right for him since then though and he comes here with very little form to speak of.  Would be a huge surprise if he could bounce back and contend although the Skelton horses are running well at the moment.
41. Some Neck (FIRST RESERVE) ⭐️⭐️⭐️⭐️⭐️⭐️
Jockey: Simon Torrens | Age: 10 | Weight: 10st 1lbs | Trainer: John McConnell
Needs one to come out before Saturday morning or he won't run. If he does I would give him a chance based on his 3rd place in the Cross Country last time out and his win over that same course in December.  Cross Country horses (Tiger Roll, Balthazar King) have a great record in the National and he would be carrying a low weight.
42. Secret Reprieve (SECOND RESERVE) ⭐️⭐️⭐️⭐️⭐️⭐️⭐️
Jockey: TBC | Age: 7 | Weight: 10st 1lbs | Trainer: Evan Williams
Very unlikley to get a run now. If he gets in this winner of the Welsh National looks the perfect candidate for the race, albeit he is perhaps a year too young.  It might be a blessing in disguise if he doesn't get a run and he can come back next year a little bit wiser and stronger.  Would probably prefer soft ground.
Summary
I don't think that the race has the same strength in depth as the last couple of years. CLOTH CAP is the obvious one but the current price is way too short to recommend a bet. I am happy with my 14-1 on him from last month.
My top selection at the current prices is ACAPELLA BOURGEOIS (33-1, 6 places each way with BetVictor, Betway, Skybet, Boylesports) who I think has the class, the current form and the staying power to run really well for jockey Danny Mullins.
My second choice would be MAGIC OF LIGHT (20-1, 6 places with Betvictor, Unibet, Betway, Skybet) who will go very close if she can replicate her second place form from 2 years ago.
Another value shout might be DOUBLE SHUFFLE (80-1, 7 places with Bet365 'each way extra') who is a huge price at 125-1 with Bet365.  I think the angle here is to use their 'each way extra' option to increase the number of places to 7 places.  That takes the odds down to 80-1 but is still a really big price. Bet365 are also offering half of your stake back in cash on any number of bets in the race (up to max refund £125) which is a brilliant offer and one that everyone should be looking to take advantage of.
Of the others, I have already backed Lord Du Mesnil as I mentioned but he needs some rain and horses like Any Second Now, Burrows Saint, Mister Malarky and Minella Times all have decent chances.
Grand National Charity Sweepstake
It's highly unlikely you'll be able to enter the usual office sweepstake you're invited to enter our Charity competition where we're aiming to raise £200 for good causes in memory of Mr Fixit. Click the link below to find out how to take part;
Distance: 4m 2f 74y
Type: Chase
Class: 1
Track: Turf
---
---
---
---
---
---
---
---
---
---
---
---
---
---
---
---
---
---
---
---
---
---
---
---
---
---
---
---
---
---
---
---
---
---
---
---
---
---
---
---
---
---
---
---