I first met Paul back in the mid-70s playing football at the wee park near his house. A firm friendship began with football, golf, snooker, tennis and eventually betting being our hobbies.
Paul was a massive Clydebank fan and with me being a Dumbarton fan we had great rivalry between our teams even though Clydebank were the better side for most of our early / teenage years.
One great memory was Paul gloating as Dumbarton were humped 6-0 by Motherwell in the early 80s but then sitting with him at in the Davie Cooper Stand as the Bankies were thrashed 7-1 by the same Motherwell side a month later.
With our love of sport it was no surprise we got involved with betting. I can remember my dad popping into our local bookies and putting our coupons on – win, lose or draw – that was all you could bet on in those days – how things have changed.
Even back then Paul was consistent – bet what you can afford, have a pot purely for your bets and don't let it take over your life.
Paul went to school in Glasgow and I would quite often bunk off from school and meet him at lunchtime and "persuade" him to join me in some smoky basement snooker hall. Looking back it must have looked very strange to see two wee 14 year olds at the table amongst some of Glasgow's finest.
Once two heavies at the next table informed us that we were playing them at doubles and Paul came out with the classic "how much for?"
Paul was one of the first in our crowd to pass his driving test and his dad used to let him drive his new Ford Capri. Again, I managed to persuade Paul to let me have a drive and I duly smashed it into a garage.
With some under-age drinking escapades and Paul taking the blame for his mum's cigarettes going missing, his family were probably quite relieved when I moved to London as he was now cutting his teeth in the newspaper world and dating Linda (who I was at school with).
Paul's relationship and career went from strength to strength with a wedding to Linda and a dream job at the Daily Record.
When I came up to Scotland for a visit Paul would always make time for a game of golf, or take in a football match and the usual pint or two even though he was leading a very busy life.
I know his regular golf buddies at Largs, Helensburgh, Dalmahoy or his Club, Clober, would say the same, considering how busy he was with his family, work or Mr Fix-its Tips, he never let you down.
Even when my dad was ill 18 months ago, Paul still found time to visit or call him for a chat about the "fitba" – my two best football buddies – both gone in 18 months.
We had many fantastic golf trips to France and Paul would often be working late at night, after a few of his favourite Continental drink – a Ruby Leffe, or first thing in the morning.
Paul fulfilled his ambition to attend a couple of sporting bucket list events – one being a guest in the Paddy Power Tent for the Cheltenham Gold Cup which turned out to be very lucrative and drunken in equal measure.
He also got to go to the Masters with his brother, David, a few years ago. Once home he raved about it to me and we decided to make that our plan for our 60ths.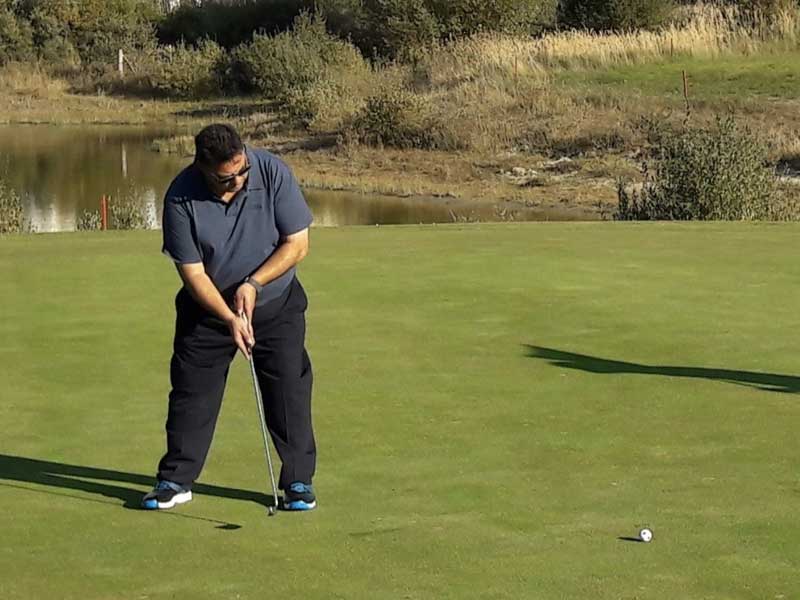 I did say to him that if we were going, we may as well go to Vegas as well and he agreed to two old pals going to celebrate in style.
As if he wasn't busy enough, we all knew how fond of the Dug he was. One day he came into my kitchen and put down some Tesco Finest roast beef on the table. I said "I'll put the kettle on and defrost some rolls" but as I turned round he was feeding the Dug Tesco's finest. Nothing but the best for Millie.
Paul loved going up the hills near his home with the Dug and football paper for a bit of chilling and studying form. The Dug was with him and his son last time we caught up.
I went to meet him at his new caravan at the borders. After playing nine holes of golf we went for lunch, where before
entering the café, we both stopped and put on our respective face masks – Paul with his Clydebank one and me with my Dumbarton one, and got a look from his son that only a teenager could give you and I am sure he muttered under his breath "what a pair of numpties".
A good lunch was had, another nine holes of golf played and then a well deserved pint.
Our last day was spent doing what we had done for years – chatting about football and our teams, a game of golf, a bite to eat and a pint. A happy day and sadly our last as yesterday I said farewell to
Paul.
Gone too soon – rest in peace.
Desmond