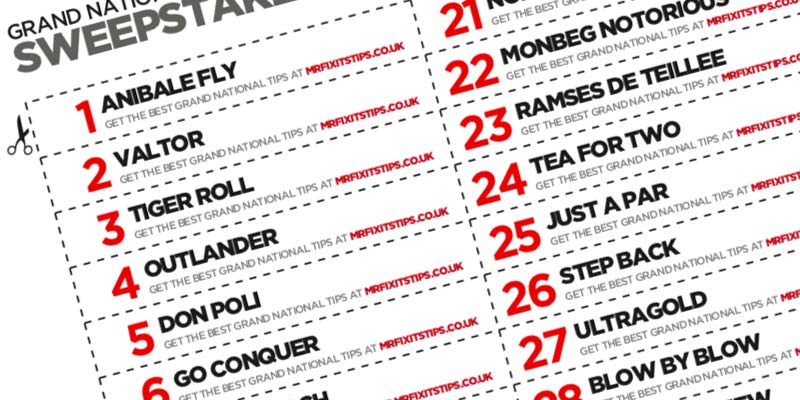 THE countdown is on to the biggest race of the season, the one everyone will be having a flutter on – The Grand National 2019!

It's the one where they'll all expect YOU to be running a sweepstake! So let me make your life a whole lot easier. Download my FREE Grand National 2019 Sweepstake Kit right here.
It features all 40 runners plus the 2 reserve horses and comes with a handy second sheet to record who picked which horse. It's A4 size so you should be able to print it now problem and it's in PDF format.
Download your FREE Sweepstake Kit now!
Good Luck in the big race!
12:00 Sedgefield - Race: 1
Distance: 2m 3f 188y
Type: Hurdle
Class: 4
Track: Turf
5
Malpas
6-F3F
---
2
Cooper's Cross
P-14342
---
1
Cook The Books
4853-PP
---
10
Spantik
54
---
9
Annies Prayer
6
---
6
Monarca

---
4
Leopolds Rock
596
---
7
My Boy Lewis
8
---
11
Miss Smartypants

---
12
Toni's Oscar
P4P/71-P
---
3
Fernhill Dane
939
---
8
That Ships Sailed
099
---
12:20 Yarmouth - Race: 1
Distance: 1m 3y
Type: Flat
Class: 6
Track: Turf
5
Malpas
6-F3F
---
2
Cooper's Cross
P-14342
---
1
Cook The Books
4853-PP
---
10
Spantik
54
---
9
Annies Prayer
6
---
6
Monarca

---
4
Leopolds Rock
596
---
7
My Boy Lewis
8
---
11
Miss Smartypants

---
12
Toni's Oscar
P4P/71-P
---
3
Fernhill Dane
939
---
8
That Ships Sailed
099
---