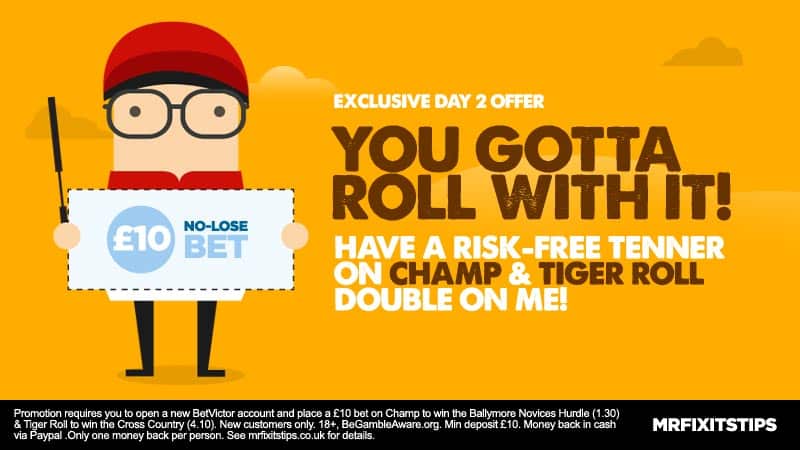 No joy on Day One with my EXCLUSIVE NO-LOSE BET offer as neither Apples Jade or Limini managed a win. But those of you who took up the offer have now been refunded your £10 stake so it's not all bad news.

Today we go again with another Double, this time it pays around 17-2.
The promo requires you to open a new betting account, but each day will feature a different bookie, so you'll get the chance to take part today and Thursday and Friday.
Day 2's Double is on Champ in the Ballymore at 1-30 and Tiger Roll to win the Cross Country at 4.10. It pays over 17-2 (£97.50 returned for your tenner at Unibet at the time of publishing).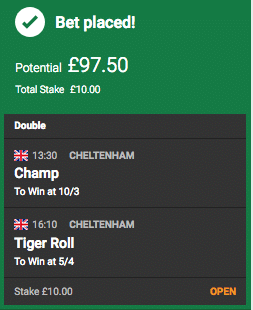 The beauty of this offer is that it will cost you NOTHING! That's right, if your bet loses you'll get your £10 stake back in cash, NOT as a free bet, via Paypal so it really is worth a punt.
You can also enjoy Unibet's Cheltenham welcome offer where you can get up to £40 money back in free bets if your horse loses the Ballymore but still earns a place. Click here for the full details.
So what's the catch? Well there isn't one. All you need to do is follow the instructions below to place your risk-free bet on the match.
How to get £10 Risk-Free bet on Champ and Tiger Roll to win.
To claim this offer you need to;
Open a NEW Unibet account using any link on this page or the button below
Deposit and place a £10 on the double of Champ and Tiger Roll (this does not need to be your first bet)
If your bet doesn't win, email me at hello@mrfixitstips.co.uk with

Your Unibet username
A screenshot of your betslip showing you placed the bet
Your Paypal username / email address

I'll then credited your Paypal account with a £10 within 72 hours
Terms & Conditions
This offer ends at 1:30pm on Wednesday 13th March 2019.
This offer is only available to those opening a NEW Unibet account via a link on this page / site, or via a link provided on my twitter page
To be eligible, users must open your Unibet account and place a £10 on the double of Champ and Tiger Roll to win (this does not need to be your first bet)
Failure to register via one of the links highlighted on this page will result in no free bet being awarded, should the bet lose.
The maximum refunded amount will be £10.00
This offer is open to UK and Ireland residents only.
You must send us an email at hello@mrfixitstips.co.uk with your Unibet username and a screenshot of the bet you have placed before midnight on Tuesday 12th March 2019.
Refund will be credited to your Paypal account within 72 hours.
Only one claim per computer, per person, per household and per IP address.
This offer is time limited and MrFixitsTips reserve the right to withdraw this promotion at any time and to not reward any user we feel contravenes the Terms and Conditions.
MrFixitsTips will not be responsible for any losses incurred as a result of this promotion.
All enquiries can be directed to hello@mrfixitstips.co.uk
MrFixitsTips decision will be final on any claim.
15:35 Down Royal - Race: 7
Distance: 1m 2f 75y
Type: Flat
Class:
Track: Turf
6
Right Turn
8075
---
8
Duquesa Beach
1-84451
---
2
Lady Georgie
8-66671
---
1
Maricruz
472403
---
7
True Conviction
976-
---
4
Dha Leath
022-604
---
5
Prime Chief
082/717-
---
3
Ecliptic Moon
7017-58
---
9
Wand
9-09080
---
10
Go Large
5-0770
---
12
Xael
00-000
---
11
Tynan
06-90
---
15:45 Redcar - Race: 7
Distance: 5f 217y
Type: Flat
Class: 6
Track: Turf
6
Right Turn
8075
---
8
Duquesa Beach
1-84451
---
2
Lady Georgie
8-66671
---
1
Maricruz
472403
---
7
True Conviction
976-
---
4
Dha Leath
022-604
---
5
Prime Chief
082/717-
---
3
Ecliptic Moon
7017-58
---
9
Wand
9-09080
---
10
Go Large
5-0770
---
12
Xael
00-000
---
11
Tynan
06-90
---
16:00 Royal Ascot - Race: 5
Distance: 6f
Type: Flat
Class: 2
Track: Turf
---
---
---
---
---
---
---
---
---
---
---
---
---
---
---
---
---
---
---
---
---
---
---
---
---
---
---
---
---
---
---