Fans across Europe and no doubt some players and managers will have their calculators out this week trying to work out just what they need to make it to the last 16 of Euro 2020.
We're here to help simplfy the rules with a quick guide to how it'll be determined which teams qualify from the group stages and in particular what happens to third placed teams.
Who Qualifies for the Last 16 of Euro 2020?
16 of the 24 nations represented at Euro 2020 will qualify from the six groups to the knock-out stages of the competition.
The top two in each group will go through automatically, along with the four third-placed teams that finish the group stages with the best records.
What happens if teams finish level on points?
If, after all group games are played, two or more teams are level on points then a series of rules are in place to determine final placings. As detailed by UEFA these are in order of;
Points won
Head-to-head record between the tied teams (goal difference then goals scored)
Goal difference
Goals scored
Number of wins
Disciplinary record (red card = 3 points, yellow card = 1 point, expulsion for two yellow cards in one match = 3 points)
Position in the overall European Qualifiers rankings
How will the the best third-placed teams be decided?
Four third-placed teams will qualify to the last 16 of the competition from their groups.
The rules in place to determine which teams will qualify are similar to those used to decide the final group placings, except of course, there will be no head-to-head matches to factor in.
The ranking criteria for third-places teams will be as follows
Points won
Goal difference
Goals scored
Number of wins
Disciplinary record
Position in European Qualifier rankings
Who will the third-placed teams play in the last 16?
This is where it feels really complicated but actually it's not too hard to get your head round.
Firstly, each of the four third-placed teams that qualify will play against a team that won their group in the last-16.
There are 15 potential combinations of four-teams that will qualify from third-place, e.g. teams from Group A, B, C & D (ABCD)or teams from group A, B, C & E (ABCE) and so on.
Since teams cannot play a team they've already faced in the group stages, UEFA have set-out a list of pre-determined fixtures which are dependent on which combination (from the 15 possible) of four teams qualify in third-place.
The full details can be read alongside all the other Euro 2020 regulations here. The key articles is 21.05 which consists of this table, which clearly lays out who will play who based on who qualifies;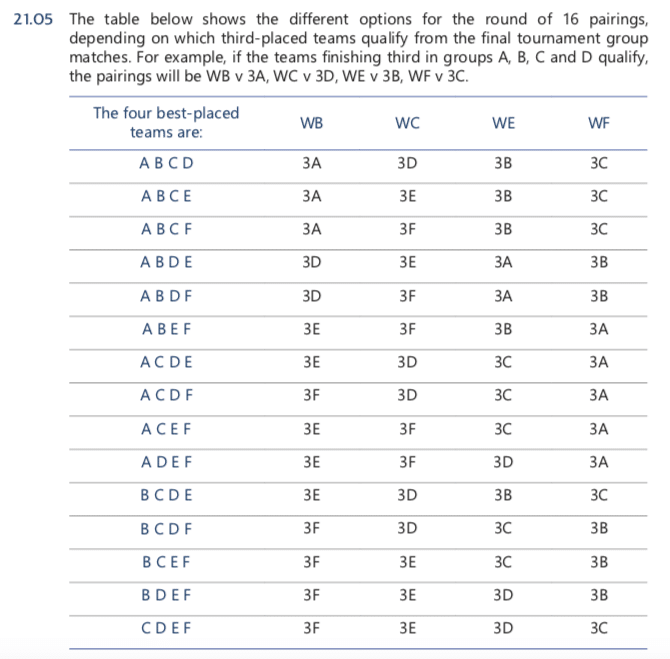 Hopefully that's cleared up some of the mystery around the who can qualify from third-place and who they'll play in the round of 16. Best of luck to all the countries involved.