Thursday's announcement by the Premier League put to bed any notion that the 2019-20 campaign will be declared void or will be decided by any means other than playing football. For now.
The powers that be declared that the season will be pushed back "indefinitely" until it is completed and that fixtures will not be resumed before April 30 at the earliest. The statement fell in line with UEFA's projected target date of June 30 to complete all domestic fixtures as well as the Europa League and Champions League, with the final of the latter pencilled in for a rescheduled date of June 27.
That was potentially good news for ante-post punters who feared leagues being declared null and void, thereby giving bookies the opportunity to avoid paying out on bets that are in a winning position.
Other leagues around Europe are expected to fall in to line but with the landscape changing day by day those dates are looking like a best case scenario.
When leagues do eventually resume there will still be plenty to play for across Europe with some titles in the balance and only goal difference currently separating the leading contenders.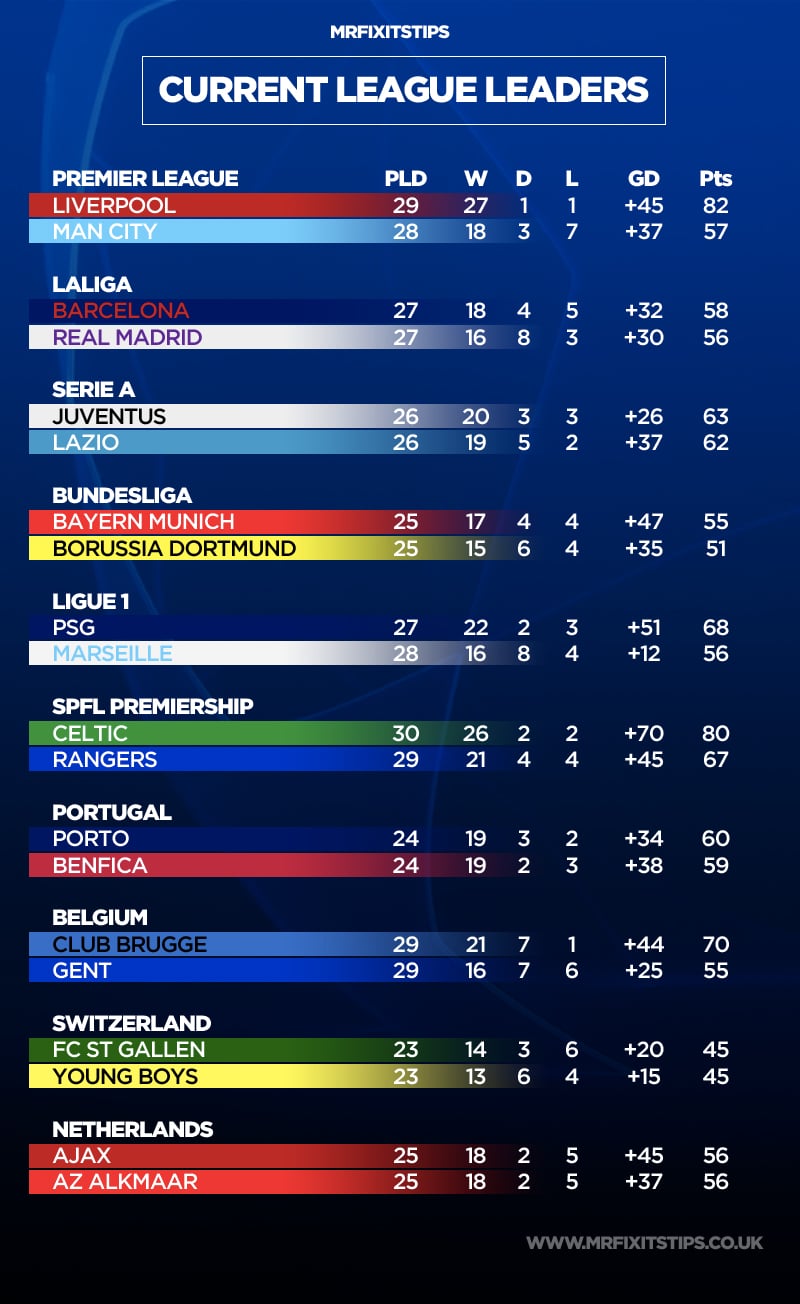 Scotland
In Scotland Celtic have powered away from Rangers since the turn of the year to open up a 13-point gap (with a game in hand). The Hoops need five wins from their last 8 games to secure nine-in-a -row.
England
Liverpool could have won the league in their scheduled Merseyside Derby at Everton on Monday had the games gone ahead and results fell their way, as it is they need just two more victories to win their first league title in 30 years.
Spain
Only two points separate the big two in La Liga in a campaign that these seen the top position change ownership several times. Barcelona hold the upper hand at the moment despite losing the recent El Clasico at the start of the month, a result that saw Real Madrid go top, but their subsequent defeat at Real Betis could prove very costly if the league is to be decided on current league positions.
Italy
Things are even tighter in Serie A where Juventus – chasing their ninth consecutive Scudetto – hold a one point advantage over Lazio, themselves aiming to win the title for the first time in 30 years. There's 11 matches still to be played with the most crucial likely to be the clash between the top two in Turin.
Germany
Bayern's dominance in Germany looks set to continue in what has been a competitive Bundesliga season. Borussia Dortmund are closest to Hans-Dieter Flick's side with four points separating the clubs. There's just eight points between first and fifth so RB Leipzig, Borussia Monchengladbach and Bayer Leverkusen can't be ruled out just yet.
France
Star-studded PSG look like they've got things sewn up in Ligue 1 where they hold a commanding 12-point led with a game in hand on nearest rivals Marseille with Rennes a further six points behind.
Other Leagues
Elsewhere in Europe, Club Brugge look uncatchable in Belgium where they've been head and shoulders above the opposition. Their 15 point lead over Gent looks unassailable, but there's still a lot of excitement to played out in Portugal, Switzerland and the Netherlands.
A single point seprates great rivals Benfica (59 points) and Porto (60). Both are miles ahead of third-placed Braga so it looks like a straight shoot-out for the top spot.
Things are even closer in Switzerland where St Gallen are the surprise leaders, albeit by just five goals, ahead of Young Boys. Basel are lurking too, just five points behind the leading pair and could yet be the ones to deny St Gallen just their third national title.
Finally, Dutch champions Ajax have AZ Alkmaar for company at the top of the Eredivise. The four-time European champions goal-difference is enough to see them head the table for now. Feyenoord and PSV were both in good form before the forced postponements and will have their eyes on closing the respective six and seven point gaps.
So there's still loads at stake all across Europe and hopefully things can return to normal as soon as possible, otherwise there's going to be some huge decisions to be made about who picks up the silverware in each and every country.