WE'RE delighted to welcome a new partner on board here at MrFixitsTips, in the shape of VOdds.
VOdds is a sportsbook aggregator, something that has been growing in popularity among casual and professional punters alike. They specialise in Asian Handicap sportsbooks and can offer access to a range of Asian Handicap bookies, including market-leading sites Pinnacle and SBOBET, who no longer operate in the UK.
Selectabet takes a closer look at what VOdds has to offer.
First Glance
VOdds are a relatively new Asian sportsbooks aggregator compared to its competitors. However, it already has a lot to offer to its users.
To start, their platform is easy in the eyes because they don't show you too much information as soon as you log in to their website. Actually, they don't show you anything yet except for a welcome window that offers a tutorial or walkthrough of the platform.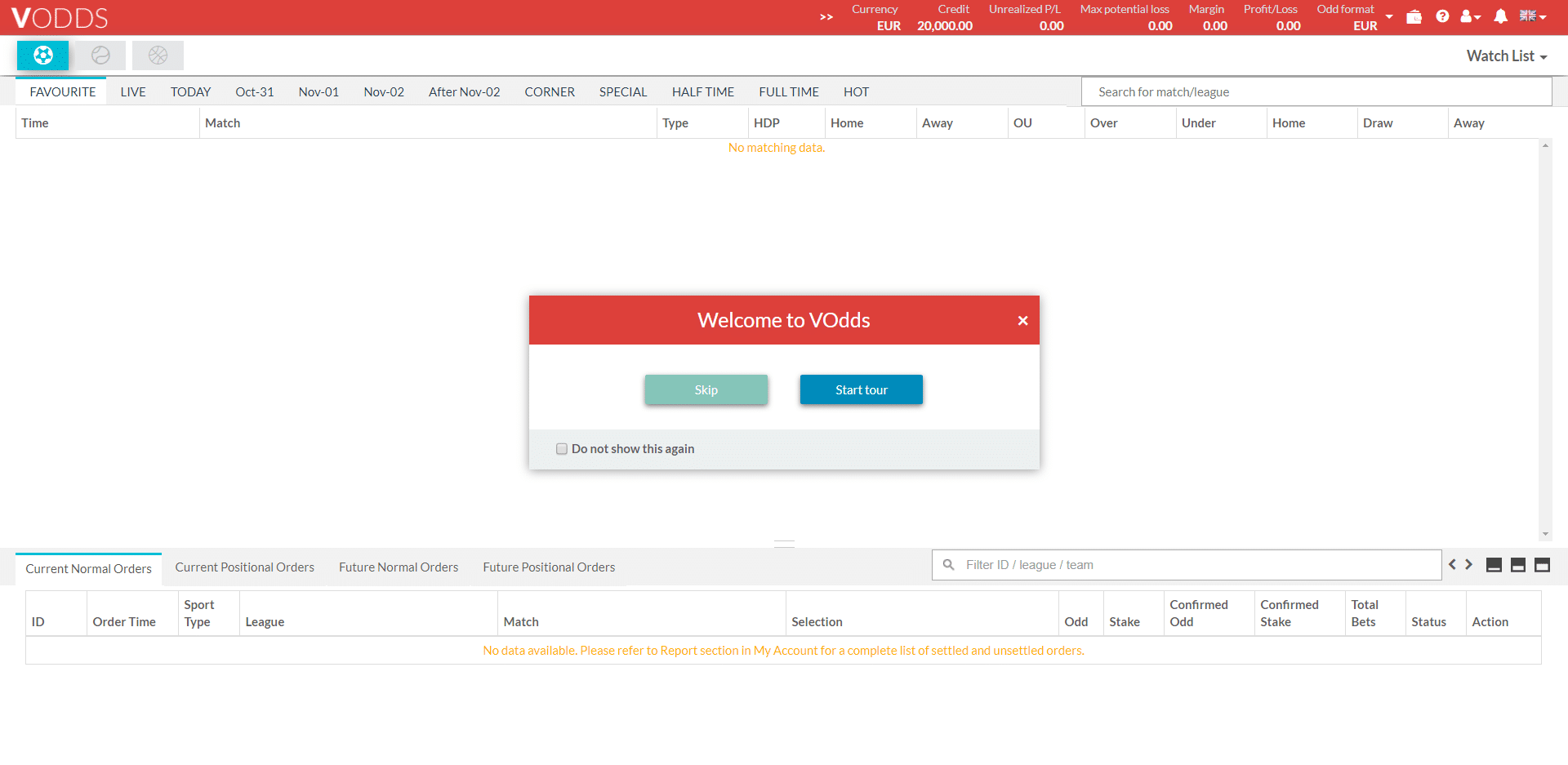 After the tour, you'll have to add the leagues or matches that you want to appear on the screen. Once you've selected the leagues that you want, the matches will automatically populate. Clicking on a match shows all the odds of the match.
Meanwhile, clicking on a match opens an 'Order Ticket' window where the odds of various bookies will be shown. This is also where you'll input your stake, and whether or not you'll place a current order or a future order. After that, all you have to do is place your order, wait for the bet to be confirmed and you're good to go.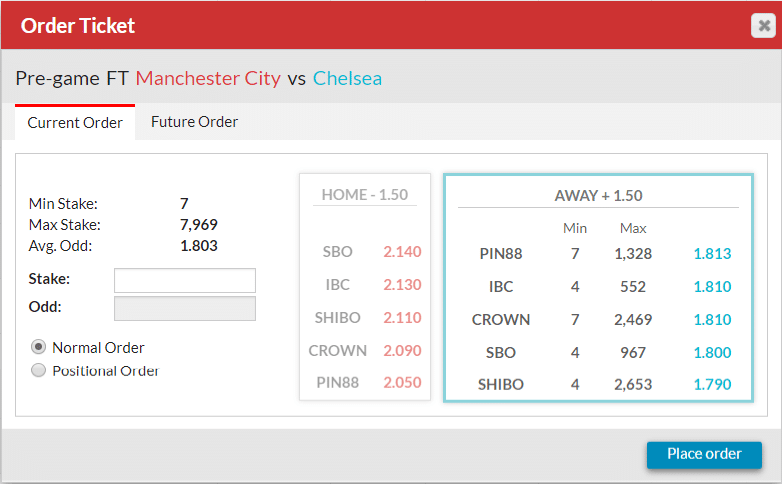 Overall, the entire platform itself is easy and straightforward to use. The betting itself is also pretty straightforward, so it's virtually impossible to get confused.
How Does VOdds Work?
VOdds serve as a betting service that acts as a collector of odds from their partnered bookies. Through this, you can easily find the best odds without having to create accounts for each book.
The main goal of VOdds is to make sports betting more comfortable for bettors, and that's exactly what you will get. On top of that, they also give you the option of betting on normal orders, positional orders or future orders.
According to their website, normal orders are, well, just like any other normal bets that you've placed before. You select an odd, confirm your bet and you're done.
Meanwhile, their positional orders are what made it even more convenient for you as a bettor, in terms of locking in a win. Positional orders allow you to place a bet on both teams in a single order in such a way that whichever team wins, you get a profit out of it. It sounds a little complicated because, well, it is complicated. However, any smart punter can take advantage of the feature if they know what they're doing.
Lastly, their future orders give you the option to place bets on odds that aren't available yet — hence the word 'future'. They also give you the freedom to cancel your order should you change your mind.
Betting Markets
Since VOdds is still new in the betting scene, their markets are limited compared to other aggregators or bookies. The good thing is, the markets they offer are the most commonly used among bettors, which are 1X2, Asian Handicap and Asian Total Goals.
Sports Offered and Payment Methods
As for sports markets, they only offer three sports for now: football, tennis and basketball.
If you are a fan of any of these three, you will definitely enjoy betting with VOdds. Also, despite having only three sports, they offer odds on various leagues and events, even those that may be unfamiliar to you.
On the other hand, their payment methods are also still a bit limited. For now, the accept Skrill, Neteller, Bitcoin and bank wire.
While these may seem like a downside for some, you can't deny that you can still make a good profit using VOdds. On top of that, they're also user-friendly in such a way that they provide resources in the form of articles to give you some insight about betting strategies, betting guides and other reads for entertainment.
VOdds Conclusion
Overall, VOdds deserves a good 4 out of 5 stars as an aggregator. While there are still some things that they can improve on, if you're in the route of becoming a professional sports bettor, you won't be disappointed with their odds, limits and betting options to reel in profits.
If you want to know more about them, you can check out their website. You can also register on VOdds right now to take advantage of their odds and services asap!