IMAGINE thinking you've won more than £500 just in time for Christmas only for your bookie to pull the rug from under you and tell you you're not getting your cash. That's the nightmare scenario facing a Scottish punter who's trying to get Sky Bet to play fair.
Sean Hanlon contacted me earlier to tell me about a void bet from the weekend. Nothing new there, almost all of us have had some kind of bet voided for one reason or another, but usually the bookies claim a "palpable error" and there's nothing we can do about it.
Although I can't find an official definition of a palpable error this one that comes up first on a Google search seems to sum it up quite nicely.
Palpable Error. A bookmaker can cancel (void) your bet, claiming it was a palpable error (or a "palp"). This can occur when a bookmaker has made what they call "an obvious mistake", such as reversed the odds of a match or some other kind of accidental error made while quoting the odds.
In most instances of a "palp" I'd say us punters KNOW the bookies have screwed up and we've tried to take advantage, whether it be incorrect odds or an overvalued cash-out. In some instances I've even had some sympathy for the bookies!
But this instance feels altogether different. There is no obvious palp despite Sky Bet claiming there to be one.
Sean placed a £5.45 bet on Saturday on there being 14+ goals scored by the home teams in the seven Premier League matches that day at 100-1. All seven duly obliged, netting exactly 14. Job done. Well done Sean, a nice little earner for Sean,  just in time for Christmas.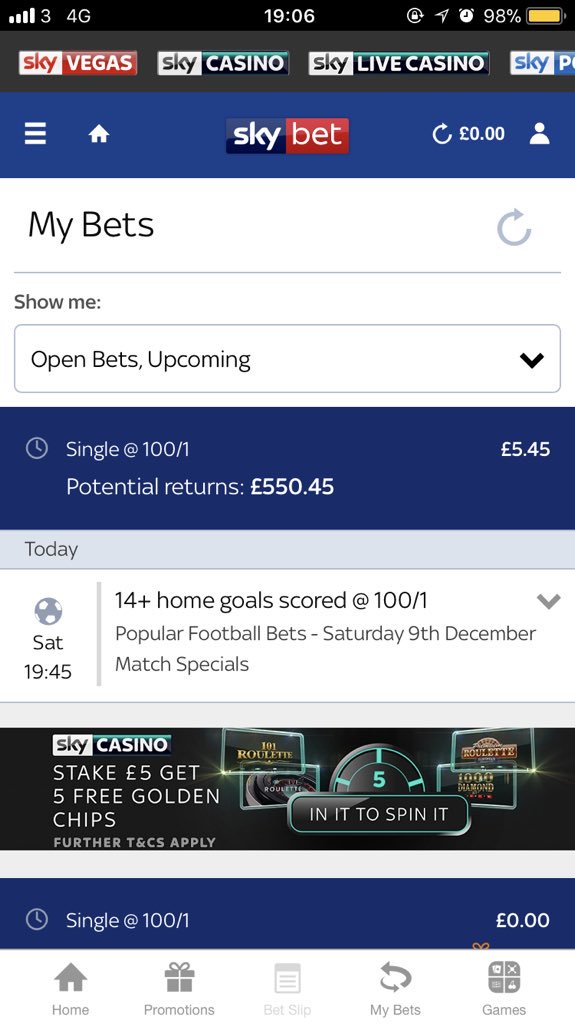 Or maybe not! Imagine Sean's surprise when the bet was settled as void.
As you'd expect, Sean contacted Sky Bet to find out what was going on.
He was told the bet had been voided because SKYBET had incorrectly listed Chelsea as the home team in their match against West Ham. Complete nonsense.
And here's why …
The bet is unambiguous. It clearly states 14+ home goals scored. This is in relation to the Premier League games on Saturday regardless of what they list as fixtures.
If Sky Bet are claiming this as a palp then it should be noted Chelsea were clear favourites to win at West Ham on Saturday. If odds available (100-1) were based on Chelsea being the home team then arguably the odds should have been higher based on their OWN mistake.
The bet has been placed in good faith by Sean. There is no obvious mistake* or accidental error here, the odds are around what you'd expect.
*To give some context, although I've no idea how market makers would price this bet up, I checked the odds on all seven Premier League home teams to score two or more on Wednesday and it came to more than 200-1.
Despite my best efforts on Wednesday Sky Bet would not entertain any dialogue about the matter on Twitter. Instead they ended up arranging a call with Sean in which they stuck to their guns and claimed to be within their rights to void the bet.
The final insult for Sean was the offer of a £20 credit as a gesture of goodwill.
Needless to say Sean rejected the offer and is now awaiting an escalation of his complaint from which he'll receive an identification number to take to IBAS.
He'll have a long fight ahead of him to try to get the money he's due. It's all so unnecessary and unfair. Unfortunately it's not unusual, as has been proven on my timeline tonight with several people highlighting similar issues with Sky Bet of late.
I'll be in Sean's corner as he tries to retrieve the money owed to him but it's another black mark against Sky Bet who seem to be making a habit of poor customer service.
*UPDATE*
Things have moved on a little today.
Sky Bet have been in touch with Sean via email to clarify things from their end. They're now stating the games Sean's bet featured were a list of European games taking place that evening. Four of them in fact, at Juventus, Valencia, Twente and Boavista (those four scored just 5 goals between them).
However, Sky Bet have admitted to incorrectly listing the games associated with the bet. Instead of the European games above they say the list that was visible featured Spurs, West Ham, Wolves, Aston Villa, Fulham and Wigan (unfortunately these teams only managed to score 9 goals). This error led to the bet being voided.
This is contradictory to the original reason given to Sean for the bet being voided.
Sean is adamant he accessed the bet from the tab for Premier League Specials and feels he was right to assume the bet featured only games in the Premier League. At the time of writing, Sean cannot access his bet via his account.
Sky Bet have apologised to Sean but have confirmed they will not be upholding his complaint.