THE Betting Club Challenge hung in the balance last night until a 93rd minute winner by Olympiakos kept us in the game and looking forward to Bet no.3.
I'd all but written off this week's challenge but this is a marathon not a sprint, and you if need the full 93 minutes of a match to win that's fine by me!
So today we have £25.37 to invest and I'm putting my faith in Athletic Bilbao to get something from their Europa League game in Greece tonight.
Spanish clubs tend to take this competition seriously as it represents their best chance of getting a Champions League slot which are usually usually consumed by Barcelona, Real Madrid and Atletico Madrid in La Liga.
Bilbao look one of the strongest teams in the competition at this stage and travel to Panathaikos who have just sold their top scorer Marcus Berg. We'll take the insurance of a draw on our side as we look to build our bank on a night of tricky fixtures.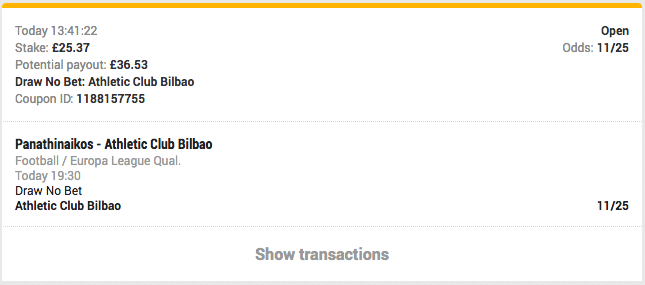 Betting Club Bet 3
Athletic Bilbao Draw No Bet
If you want to join the challenge bet with me at Unibet at 11/25
Stake £25.37
About Mr Fixit's Betting Club
My Betting Club is for Gold Members only. Each week I try to undertake the challenge of winning as much as I can, starting with £10. If I reach £1,000 or 7 days of wins a row in I'll cash out and bank the winnings. Once a year all the winnings will be divided among selected Gold Members. After every loss the club will resume the following Monday or Tuesday.