MUCH like the racing fixtures in the last few days the February NAP of the Day Competition was operating at a reduced service in February due to issues we had with the site in the middle of the month.

Some members were unable to reach the site for the best part of a week but several managed to plough on and in the end we had an exciting finish.
Only two members managed to finish in profit for the month and those were @mal-c and @shuggy1 who were in the black to the tune of £7.74 and £6.21 respectively to a level £1 stake.
For much of the month it looked like @shuggy1, @bigbopper and @jstuhhs would battle it out for the £100 prize but mal-c pipped them at the post with an 8-1 winner late in the month
@jstuhhs' 39.29% win rate was very impressive as he put up 11 winners during the month. But it's @mal-c who picks up the top prize of £100 plus a £10 free bet. Admin will be in touch about how to claim your prize.
Here's the final leaderboard for the month;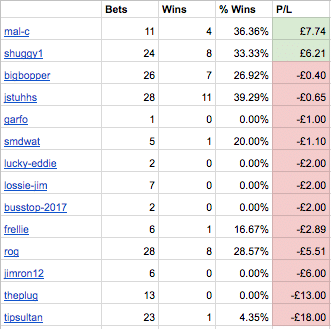 Thanks again to all that took part this month, especially those that persevered through the problems with the site. Well done.
£100 March Contest Opens Today
Keep an eye out for March's competition opening this morning
AND… We'll be running a £250 NAP of the Day Competition specifically for Cheltenham so keep your eyes peeled for that one.