THE new season brings a new challenge and I'm hoping to kick-off in style by converting £10 in to £1,000 over a series of bets in my first Challenge of the season.
I've teamed up with Kwiff, the sports betting app where you can have your odds supercharged at any time, to take on the Challenge and they've given me a brilliant offer for you to get involved. You can join me in the start of my Challenge RISK-FREE.
Simply put, if my first bet loses, you can claim your money back in cash. If it wins then it's down to you whether you continue to follow my bets on the Kwiff app.
About Kwiff
Kwiff is a revolutionary sports betting app that encourages you to follow your instincts. Any bet you place, regardless of sport, odds or stake could be supercharged at the moment you place your bet.
The beauty of using Kwiff for a challenge like is that there is a chance that I could get my odds increased at any time, therefore could reach the magical £1,000 in fewer bets.
How to Start My £10-£1,000 Challenge Risk Free
In order to start my Challenge with a £10 risk-free bet you'll need to open a new Kwiff account on your mobile phone by clicking the button below.
Once you open your account you'll need to make a deposit and place your a bet of £10 on my first bet of the challenge. If the bet doesn't win then simply email me with your Kwiff username, a screenshot of your bet and your Paypal username and I'll send you your £10 back in cash.
To claim this offer you need to;
Open a NEW Kwiff account using any link on this page or the button below
Deposit and place a £10 on the bet on Bradford to win v Cambridge Utd
If the bet doesn't win, email me at hello@mrfixitstips.co.uk with

Your Kwiff username
A screenshot of your betslip showing you placed the bet
Your Paypal username / email address

I'll then credited your Paypal account with a £10 within 72 hours
Bet No.1 of my £10-£1,000 Challenge
My first bet is Bradford City to win their opening game in League Two at home to Cambridge United.
They are 1.75 (3-4) to win, but as I mentioned above I was luck enough to get my odds 'Kwiffed' to 2.35 (27-20) so that would make a great start if it wins.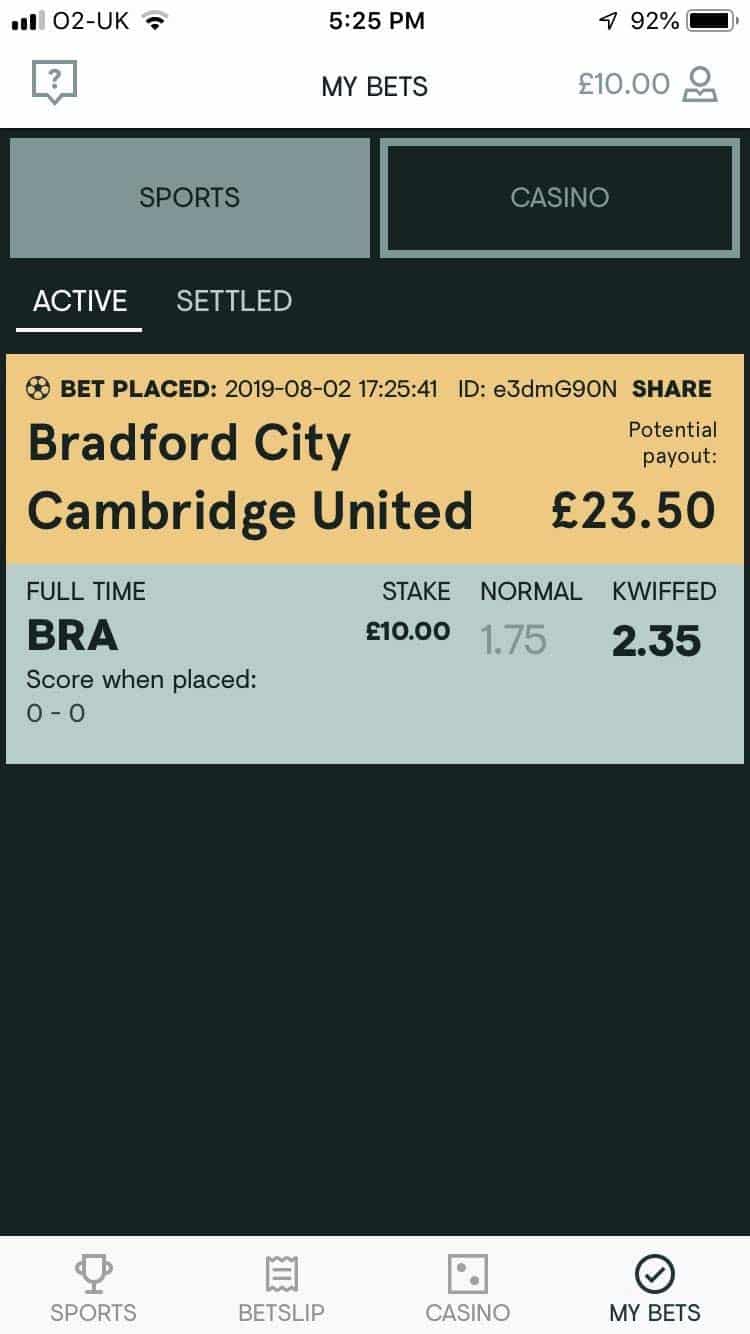 Best of luck if you're getting involved.
Terms & Conditions
This offer ends at 3:00pm on Saturday 3rd August 2019.
This offer is only available to those opening a NEW Kwiff account via a link on this page / site, or via a link provided on my twitter page.
To be eligible, users must open your Kwiff account and place a bet of £10 on Bradford City to beat Cambridge United (match played 3rd August 2019).
Failure to register via one of the links highlighted on this page will result in no free bet being awarded, should the bet lose.
The maximum refunded amount will be £10.00
This offer is open to UK and Ireland residents only.
If the bet loses you must send us an email BEFORE 11.59pm on Saturday 3rd August 2019 to hello@mrfixitstips.co.uk with your

Your Kwiff username
A screenshot of your betslip showing you placed the bet
Your Paypal username / email address

Refund will be credited to your Paypal account within 72 hours.
Only one claim per computer, per person, per household and per IP address.
Offer is limited to residents of UK and Ireland.
This offer applies to the first bet of the £10-£1,000 Challenge. No refunds will be paid for subsequent losing bets during the Challenge.
This offer is limited to the first 50 claimants and MrFixitsTips reserve the right to withdraw this promotion at any time and to not reward any user we feel contravenes the Terms and Conditions.
MrFixitsTips will not be responsible for any losses incurred as a result of this promotion.
All enquiries can be directed to hello@mrfixitstips.co.uk
MrFixitsTips decision will be final on any claim.