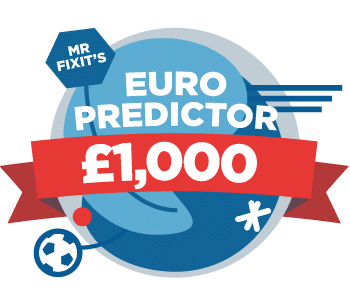 WIN £1,000 CASH
The countdown is on to the kick-off of Euro 2016 and you could win £1,000 cash by predicting the correct outcome of the Group Stage matches in my EXCLUSIVE competition.
SUBMIT YOUR ENTRY
HOW IT WORKS
Simply predict the outcome of each match and if you score the most points you'll scoop the top prize of £500 CASH.
After each day we'll list the top 20 members with the most correct predictions and prizes will be won by the top 4 with the highest score.
ENTRY IS FREE
The competition is available to ALL members, with Gold and Silver Members getting more chances to win the prize.
Gold Members will receive 10 entries to the competition, Silver Members 5 entries and Basic Members 1 entry.
THE PRIZES
ALL prizes will be paid in CASH (no free bets) – what better way to celebrate the Summer than extra money in your pocket?
Finish top of the table and you'll scoop £500 in CASH, 2nd will receive £250, 3rd £150 and 4th place £100.
SUBMIT YOUR ENTRY
Select Home Win, Away Win or Draw for each of the 36 matches in the Group Stages of the competition. You need to be a Member of the site to participate, if you've not already signed up, you can do so for free here.
[eu_fixtures]